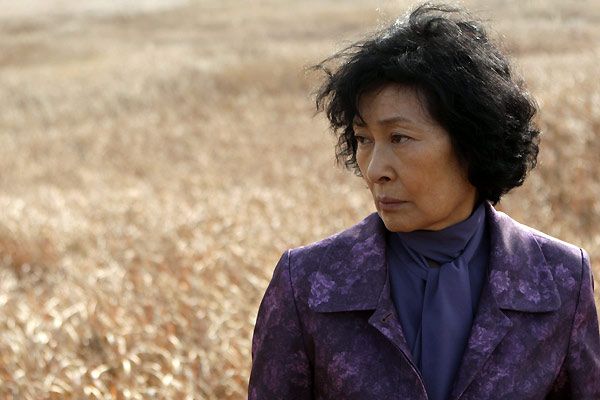 La danse rouge.     
   7.0   Mother parle de surprotection des progénitures. C'est l'histoire d'une mère, qui tellement amoureuse de son fils un brin simplet qu'elle élève seule depuis toujours, est prête à tout, même à tuer, pour l'innocenter dans une affaire de meurtre. Le père est absent. Peut-être est-il mort il y a longtemps ? Peut-être n'a t-il jamais voulu reconnaître son fils ? Finalement on n'en saura rien, et c'est bien mieux comme ça.
     Comme dans Memories of murder, l'humour est très présent. Il désamorce provisoirement le processus mélodramatique. En général ce sont les séquences avec Do-Joon. Il lui arrive sans cesse quelque chose. C'est ce qui le rend très touchant. Il a un désir d'indépendance impossible assez formidable. Après cette fameuse nuit il rentrera chez sa mère, se couchera à ses côtés en position fœtale. C'est un enfant. Il y a eu meurtre, le fils est arrêté, toutes les preuves l'accablent. Policiers satisfaits, la mère mène son enquête. Elle ira jusqu'à soupçonner le meilleur ami de Do-Joon. Elle ira jusque chez lui, en quête de n'importe quelle preuve, et trouvera ce club de golf ensanglanté. Elle arrive au poste de police, essoufflée, trempée. Elle ne fait que courir. Il pleut énormément. Dans Mémories of murder il pleuvait que le soir, au moment des meurtres. Dans Mother il pleut presque tout le temps. Dès qu'elle est dans le cadre. Elle est tellement convaincue de l'innocence de son fils que ce qui n'est pas preuve devient preuve. Du coup ce comportement la rend quelque peu antipathique, dans sa manière de faire progresser son enquête. Ce besoin de remplacer la culpabilité de son fils. D'utiliser les objets des morts. De convoquer le mémoire des vivants en mettant le malheur de son fils au centre de tout, devant le meurtre de cette femme même. Lorsque ce policier lui dira qu'il ne peut plus s'occuper d'elle, lui avouant que son fils est désormais une affaire classée, j'ai ressenti comme de la colère aussi, et finalement cette mère va la traduire cette colère.
     C'est un film d'objets. Je crois que toute ma fascination progressive est venue de là. J'aime l'idée de l'avancée par l'objet. Très enquête policière et pourtant ici rendue très intime. Un collier perdu sur le lieu du crime. Une balle de golf. Deux éléments qui condamnent presque irrémédiablement Do-Joon. Ce téléphone portable qui représente l'espoir de la mère, celui qui détient peut-être la vérité. On peut même évoquer les marques : le sang, la photo. Autant d'éléments qui prennent peu à peu leur importance. Puis il y a cette boite d'aiguilles, que Do-Joon retrouvera sur un lieu d'incendie où un vieil homme a péri. Scène en écho à son souvenir récupéré, quand il avait cinq ans, lorsque sa mère avait tenté de l'empoisonner. C'est la fin du film, spirale émotionnelle hors du commun. Quelque part, cette mère, pour avoir réussi à faire sortir son fiston, a cassé une amitié, et détruit deux vies. C'est l'individualisme vu par Bong Joon-Ho. Individualisme forcé bien entendu, là est tout l'intérêt, quand on découvre cette totale incapacité des flics et des avocats. Au départ elle ferait presque les choses dans les règles cette pauvre maman, mais comme on ne l'écoute pas, elle prend les armes. Cette femme qui devient créature vengeresse puis meurtrière, le cinéaste ne lui offre aucune légitimité. Il en fait simplement un être humain. La dernière séquence dans ce bus de voyage pour personnes âgées (on devine) est un instant qui en dit long sur le pouvoir unique que détient l'être humain face à ses maux profonds, à sa rancœur. Ce pouvoir c'est l'oubli. On peut choisir d'oublier. Do-Joon n'avait probablement jamais eu le choix. Sa mère a toujours fait en sorte qu'il oublie tout pour mieux avancer. A lui demander maintenant de se rappeler elle a peut-être condamné leur relation.
     Il y a un montage fabuleux, très modèle américain, avec flash-back essentiels et reconstruction, par point de vue, par la mémoire, de l'instant clé du récit. Franchement on se croirait chez De Palma. Il y a du Clint Eastwood aussi. Dans son approche classique. Mystic River ne rôde pas très loin. Pour le côté mélo principalement et sa belle galerie de personnages. Et c'est vrai qu'il y a une virtuosité chez ce jeune cinéaste coréen. Il se plait à filmer des récits incroyables avec une mise en scène, sinon inventive, complètement efficace. Personnellement je marche à fond. Surtout qu'il s'entoure d'acteurs absolument impeccables. Son film passe à une vitesse folle. Je suis admiratif du travail technique et l'histoire m'emporte d'un bout à l'autre. Si la danse initiale m'intriguait, la danse finale m'a carrément terrassé d'émotion.