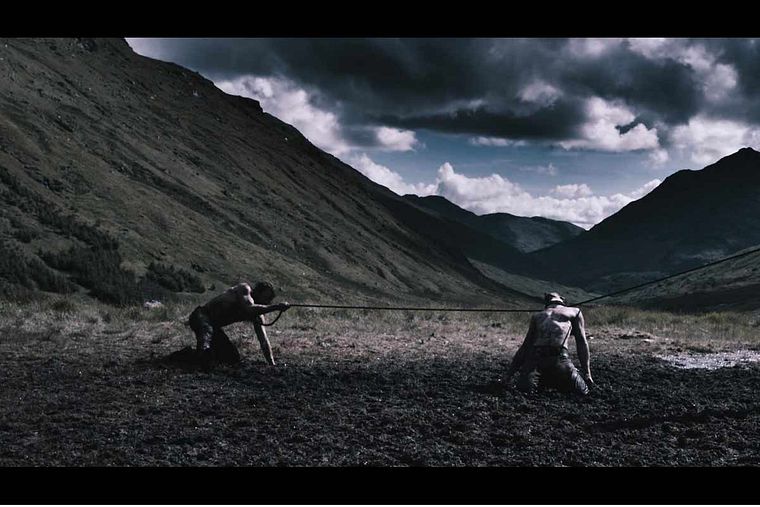 Vikings.     
   7.0   J'ai volontairement oublié d'écrire le titre français, n'arrivant pas à la cheville de l'original d'une part et correspondant d'autre part au titre de l'une des parties du film, the silent warrior. A première vue, il y a quasiment tout ce que je peux détester dans Valhalla Rising. Déjà le film se divise en parties. Six au total. Heureusement on ne le sait pas avant. Je crois avoir horreur de ce procédé, surtout quand il guide un récit au vide abyssal, c'est le cas ici. Puis il y a autre chose qui me débecte c'est le travail sur le son. On est loin d'une nature filmée à la Malick où celle-ci couvrirait les bruits humains. Non au lieu de cela, le son est davantage accentué lors des batailles, aussi brèves soient-elles, lorsque le glaive entre et sort de la chair. On se croirait dans Apocalypto de Gibson. Des corps noyés dans la boue, des visages tuméfiés, du sang devenus noirâtre, les gros plans, aussi bref soient-ils eux aussi, sont explicites. C'est barbare. Comme l'était Bronson, son précédent film. Sans compter une utilisation lourdingue de l'insert choquante, entièrement rouge et accompagnée de bruits stridents je peux enfin dire qu'en lisant cela, j'ai juste envie de vomir tout ce que j'ai mangé depuis ma naissance.
     Et pourtant ! C'est ce jusqu'au-boutisme qui peu à peu est venu me cueillir. Le mec a une idée en tête et il y va à fond. On pourrait alors dire : Oui mais Bronson c'était un peu pareil. Je suis d'accord. Sauf que Bronson j'étouffe, je prends tout dans la gueule, la photo est hideuse et le film m'avait vraiment insupporté, l'acteur aussi. Les personnages de Valhalla Rising ne sont pas intéressants. Mais ils ne sont justement pas insupportables. Ce ne sont que des concepts, jusqu'à l'enfant errant, suiveur, guide et voix, tout droit sorti de chez Tarkovski. Et c'est peut-être ça qu'il me fallait : me sentir loin de cette expérience, y observer des situations absurdes, des personnages improbables. Quelque part j'ai beaucoup pensé à Herzog et son chef d'œuvre, Aguirre la colère de dieu. Même sentiment lointain et pourtant, même sensation de flottement. Bon, après, Herzog disait plein de choses par ce personnage fou, en pleine mégalomanie coloniale, dans cette solitude éternelle et cette fin presque cosmique. La dernière demi-heure de Valhalla Rising évoque Aguirre, c'est évident. Quelque part il y a aussi cette dimension cosmique ici. La descente d'un fleuve dans une coquille de noix. Six vikings assaillis par des flèches de tireurs que l'on ne verra jamais, simplement la forêt, les feuillages à perte de vue. Les deux dernières parties dans le film se nomment Hell et The sacrifice. Excepté la présence de l'enfant, il y aussi quelque chose dans ce dernier titre et l'esthétique du film en général qui renvoie au géant cinéaste russe. J'assume complètement ce que je viens de dire. A la différence qu'ici on ne travaille pas la durée du plan, c'est probablement mon seul regret. Mais certaines images sont remarquables. Il y a une profondeur de champ que Bronson n'avait jamais. Une profondeur qui laisse apparaître des fleuves qui sillonneraient les vallées vertes sur des kilomètres. Il y a un truc dingue tout de même c'est l'absurdité de ce voyage et l'ironie du quatrième tableau : Terre sainte. A la recherche de Jérusalem, l'équipage s'égare dans la brume et accoste en terres américaines primitives. Refn ne donne aucune date ni situation géographique. On se perd dans cette brume avec des personnages qui ne tarderont pas tous à périr avec cette croix levée qu'ils imaginaient protectrice. Dans ces deux dernières parties, Refn tente un truc. Jusqu'au-boutiste, je vous le disais. Son film était déjà ultra silencieux, il devient limite expérimentalo-muet avec l'apparition d'une musique noisy qui ne m'avait pas paru aussi bien choisie – comme musique d'ambiance se fondant dans l'image – depuis le dernier Jarmusch, The limits of control. J'achève le flot de références en citant Kubrick car c'est assez évident, je dirais même que ça saute à la gueule et pas simplement pour son dernier plan : Refn a voulu faire son 2001 !
     Voilà, je ne pense pas que ce soit un bon film, non, enfin je ne sais pas, je crois même qu'il entrerait dans la catégorie des films que j'ai honte d'aimer. Mais bon, c'est con à dire, j'ai pris mon pied. Je crois surtout que ce que j'aime c'est que le film ne raconte absolument rien – Mais il est dans son sujet, le personnage ne parlant pas, ne pensant pas, n'ayant pour ainsi dire aucune émotion. Je dirais même que le cinéaste a cette prétention à filmer le vide en pensant que la technique, seule, peut faire un chef d'œuvre. Tout l'inverse de Bronson. Oui, rarement j'ai vu un film aussi prétentieux, aussi suffisant et j'aime l'idée que le type soit allé au bout de sa démarche. En fin de compte je crois que j'aurais adoré le même film mais entièrement silencieux. Sans aucun dialogue. Après, qu'il fasse joujou avec ses sons comme un gros bourrin qu'il est, ne me dérange pas tellement. Qu'il fasse le tout en musique (que certains qualifierait d'inaudible, c'est ce que j'ai entendu en sortant de la salle) ne me dérange pas non plus. Ce ne sont pas des partis pris que j'affectionne mais disons que sur ce que j'en attendais je trouve cela déjà épatant.