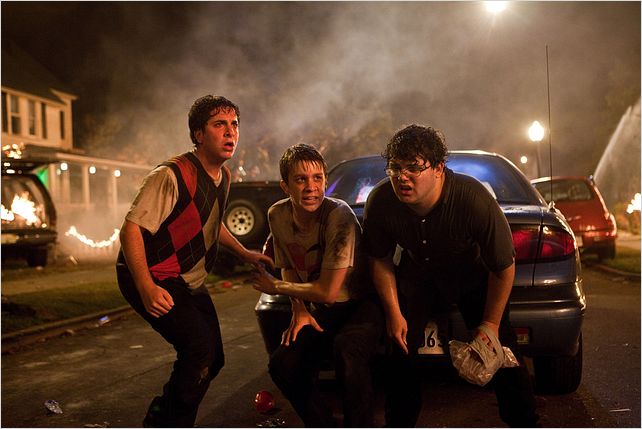 The world's end.
   8.5   C'est un film réjouissant. Un film accordé à ses personnages : construction approximative, ovni informe, bruyant et transgressif. Un teen-movie qui ne ressemble à aucun autre, au moins dans la frénésie et le carnage qu'il met en scène. C'est le film ultime du fantasme adolescent. Le film gagne à mesure qu'il se déploie. Sans pour autant surprendre, il suit une mécanique de feu carrément jouissive, il a cette faculté à ne reculer devant rien.
Pourtant, le film ne commence pas très bien, ou plutôt disons qu'il fait peur. Sorte de Supergrave suédé, on se demande bien comment et combien de temps l'idée va t-elle tenir, puis petit à petit le film enchaîne les situations à la Very bad trip sur la vague duquel le film semble davantage surfer que sur celle de Supergrave par ailleurs, tout en doublant le résultat. La séquence du chinois mafieux débile est relayée ici par un nain rebelle spécialiste des droites dans les testicules, que l'on se débarrasse en l'enfermant dans un four ainsi qu'un dealer forcené prêt à tout pour récupérer un nain de jardin blindé d'Ecstasy que les trois potes lui ont chouré juste pour avoir une mascotte de soirée.
     Projet X suit donc son modèle mais va plus loin, a quelque chose de plus que lui, de moins manipulateur, de nettement plus progressif. L'ellipse est abandonnée au profit d'une linéarité précise : une soirée est organisée chez un ado de dix-sept ans, dans la maison de ses parents partis pour le week-end fêter leur anniversaire de mariage. Le film se déroule en gros sur vingt-quatre heures. On peut même se dire que Projet X pourrait être le hors-champ de Very bad trip qui n'avait pour concept que de montrer le lendemain d'une soirée, de ne pas la voir. Celui-ci joue donc moins sur cette idée du sensationnel et le scénario, si l'on considère qu'une grosse soirée de biture poussée à son paroxysme en est un, n'a pourtant rien à envier à Very bad trip qui suivait une trame complètement bête et invraisemblable, la séquence de casino demeurant au passage la pire 'idée raccourcie' du film. Au moins, ici, c'est de l'improbable possible. Le film joue d'ailleurs beaucoup sur l'idée de la puissance du net, sur l'information de masse actuelle, qui permet en deux trois clics, et même si t'es un gros looser dans ton bahut, de rameuter n'importe qui voulant tiser, danser et s'envoyer en l'air.
L'autre idée à la mode du film c'est l'utilisation formelle du faux film amateur, façon Chronicle, sorti peu avant lui, donc le film que l'on voit correspond à ce que filme l'un d'entre eux – qui restera d'ailleurs entièrement hors-champ – à savoir tous leurs faits et gestes durant cette journée et cette soirée inoubliable. Le procédé est régulièrement oublié tant il est impossible pour un film amateur d'avoir ce don d'ubiquité là. C'est à dire que même cela Projet X ne le respecte pas. Il n'y a ni rigueur formelle, ni rigueur morale. C'est le film cancre par excellence. C'est aussi en cela que le film rappelle davantage le Supergrave d'Apatow que le film de Todd Philipps, qui se terminait gentiment sur un mariage accompli et un défilé de photos, certes hilarant, mais montrant à quel point le réalisateur préférait finir en consensuel – « on les regarde une dernière fois puis on les efface » – qu'en rebelle.
Nima Nourizadeh aura au moins cela pour lui. Et si sa peinture sociale, complètement invertébrée, n'a pas la verve d'un Spike Lee, ni la trash-attitude glauque d'un Larry Clark, il faut dire que l'énergie subversive déployée va crescendo et rappelle quelques traits de Do the right thing et de Bully. Un état de non-retour. Une page qui se tourne. La fin convoque clairement celle de Supergrave. Une étape est franchie, que l'on termine sur un escalator ou une tribune sportive. Il ne suffit pas, comme bien souvent dans la comédie américaine, de ranger sa chambre et de poursuivre. Bon, c'est vrai qu'en majorité les personnages sont réduits à des rôles de figurants, que l'écriture est atroce à ce niveau là mais c'est là où le film veut aller, une soirée d'écervelé, ce n'est pas plus condamnable que dans un Very bad trip ou dans un American pie, sauf qu'ici, cerise sur le gâteau, la forme va de pair avec ce qu'elle montre.
Le film est nourrit d'idées exaltantes, de pure jouissance. Et jamais je n'aurais pu penser dire cela d'un film qui pencherait tout de même grandement vers le gros clip MTV, avec apartés clipesques tendance vidéos trash Youtube, DJ à gogo, alcool à flot et nichons à volonté. Mais je m'incline devant l'arsenal déployé ! Les pancartes 'Naked grils only' au bord de la piscine. Le château gonflable soldé. Les aventures de Milow le Yorkshire. La tyrolienne improbable entre le grenier et la piscine. Et d'autres trucs absolument hilarants comme ces deux garçons employés pour la sécurité, deux gamins d'une douzaine d'années, arborant un gilet jaune, une démarche de gros dur et un regard hyper menaçant. Le rapport avec les voisins du quartier, entre celui-ci qui se hisse contre la meute demandant que cela cesse pour que sa famille puisse dormir et celui-là qui s'invite à la soirée et finira par gerber ses tripes sur un pare-brise. J'essaie d'en dévoiler le moins possible tout de même tant l'issue du film paraît inimaginable et mieux vaut découvrir ça dans sa progression. Je me suis bidonné d'un bout à l'autre, ou presque. En fait, c'est tellement de mauvais goût, et un mauvais goût même pas provisoire, irrattrapable, complètement trash, sans aucune demi-mesure que ça finit par me plaire !