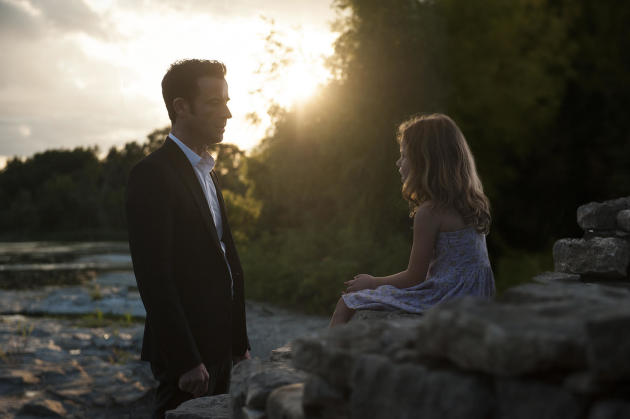 Where is my mind ?
   9.5   En effet, je ne sais pas bien où je suis.
     Dire que The Leftovers m'a chamboulé au-delà du chamboulement est bien en dessous de la réalité. Il va de soi que cela vaut pour les deux saisons, mais le niveau de ces dix derniers épisodes est si étourdissant. Ce n'est définitivement pas une série comme les autres. C'est un tremblement de terre.
     Je suis sorti terrassé de ce dernier épisode. Terrassé mais serein, tant je ressens ce que ça représente, la trace que ça va laisser, je m'y sens chez moi, je me laisse aller. Atteindre un tel pouvoir de fascination, un tel crescendo émotionnel, sans jamais forcer des entrées ni des sentiers attendus c'est assez inédit il me semble.
     The Leftovers a donc troqué sa petite bourgade de Mappleton (Celle du livre de Perotta) touchée comme le reste du monde par le suddent departure, pour Jarden, au Texas, ville curieusement entièrement épargnée. Une fois de plus, il ne s'agit pas de focaliser sur l'événement mais de vivre avec l'héritage qu'il laisse derrière lui. Prendre un lieu qui n'a pas bougé, rebaptisé dorénavant Miracle, que l'on vient visiter, que l'on souhaite habiter est une idée incroyable. Une de plus.
     What's happened ? La série ne cesse, par l'intermédiaire de ses personnages de se poser cette question insoluble, de nous mettre en situation de se la poser. Qu'importe les questions et surtout les réponses sitôt qu'y demeure mystère et fascination – Incroyable séquence introductive, échappée de nulle part, dont on entrevoit des bribes réflectives dix épisodes plus loin. Qu'importe les miracles, les tremblements, les disparitions, les grillons récalcitrants, pourvu qu'on soit invité à s'y lover intimement, à ne plus vouloir en sortir.
     On pourrait grossièrement dire que The Leftovers est un Lost plus adulte. Rien de péjoratif dans ce constat bateau, simplement la sensation que les nombreux rebondissements qui faisaient le sel de l'une sont distillés et condensés dans l'autre de manière à créer une sidération sur la durée, en n'hésitant donc jamais à étirer les mystères (Un épisode sideway, dores et déjà dans la légende), poser un long dialogue, attiser nos incompréhensions. C'est faire le pari que le spectateur a déjà prévu de faire cet effort-là, d'assister et de vivre sa propre cour des miracles.
     On voudrait que ça ne termine jamais. Seul le voyage compte, à l'image de Kevin et plutôt deux fois qu'une ou comme Mary et plutôt deux retours qu'un. The Leftovers n'est que traversées hallucinantes, dérives déconcertantes. L'importance musicale, aussi, en tant que ritournelle ou trouée bouleversante sur Homeward Bound. Comment peut-on à ce point être aussi inspiré ?
     Holy shit. Ce sont les mots prononcés par Michael à l'issue de l'épisode 8 lorsqu'il assiste à quelque chose qui mérite largement cette exclamation. Oui, holy shit. On ne cesse de le dire aussi. C'est le ressenti global de cette deuxième saison qui te clou systématiquement par sa densité, sa puissance, sa profondeur.
     Il faut certes accepter de se séparer d'un certain bagage sériel commun, The Leftovers a davantage qu'un programme à offrir. C'est la vie dans ce qu'elle a de plus complexe, belle, indomptable, cruelle, incroyable.
     Je le disais, c'est un choc tellurique. Merci, Damon Lindelof. Et si cette fin me convient à merveille, please HBO, faites que ça continue.