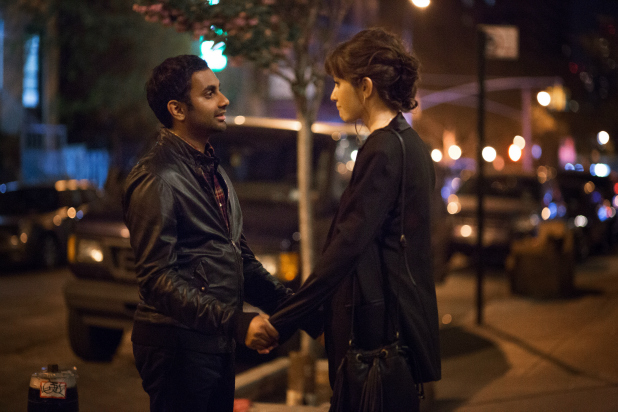 Modern love.
   7.0   S'il fallait trouver un parent à Master of None il serait à chercher du côté de Girls ou de Louie. Aziz Ansari, issu du stand-up cultive lui aussi cette volonté de créer un personnage qui serait une projection de lui-même à peine modifiée. Comme Lena Dunham joue Hannah, Louis C.K. campe Louie, Ansari là aussi acteur/scénariste se réinvente en Dev, cet acteur trentenaire new-yorkais qui enchaîne les castings anodins, fait des banales soirées entre potes ou se prend la tête sur son prochain rencard.
     Master of None est une succession d'épisodes plus ou moins reliés les uns aux autres puisqu'ils concentrent chacun, de façon plus ou moins explicite, une thématique propre que l'on retrouve dans les titres (qui apparaissent lors de sublimes génériques, discrets, raffinés) comme Old people, Parents ou Indians on TV. La série est multi référencée jusqu'à parfois tourner en boucle comme par exemple lorsque Dev, en pleine relation adultère, fait une fixette sur le Richard Gere d'Unfaithful ; Ou quand Arnold (Génial Eric Wareheim) kiffe sur Cumberbatch dans Sherlock. Le genre de focalisation qui me convient allègrement.
     C'est un humour fin, toujours dans le bon tempo. Certes ça n'invente rien, mais chacun de ces dix épisodes trouve sa respiration et permet au show de l'emporter sur tous les fronts, aussi bien dans le temps qu'il accorde aux relations amicales, amoureuses et familiales (Les parents de Dev sont les vrais parents d'Aziz Ansari) que dans sa faculté de tacler sexisme et racisme ordinaire. C'est subtil et drôle. Mais toujours lucide. Il n'y a pas vraiment de suite direct entre les épisodes hormis dans sa globalité ou dans le fil romantique. C'est très libre.
     J'adore Aziz Ansari. Celui qu'on avait découvert et aimer (plus que les autres ou presque) dans Parks and Recreation, prend de la bouteille et de l'envergure ici, jusqu'à devenir notre nouvel héros, optimiste mais toujours en plein doute, amoureux des tentatives et interrogations. Qui voudrait aimer à 100% mais craint en permanence de n'être qu'à 70. Il est beaucoup accompagné de la belle Noël Wells, qui incarne Rachel, sa rencontre d'un soir, sa rencontre d'un autre soir, son amie de trip à Nashville et sa petite amie. L'épisode Mornings est le plus beau de la saison. Une merveille. Mais en gros, dès Nashville, j'aime sans réserve.