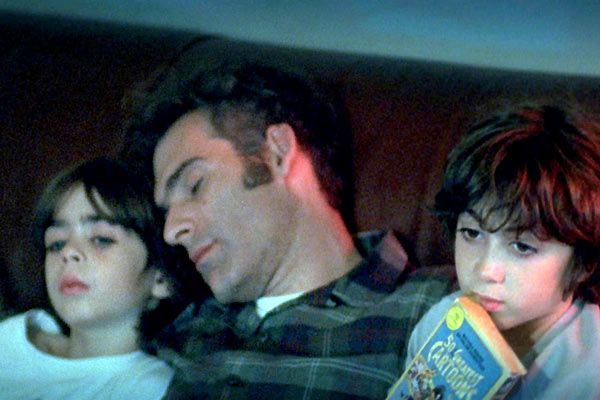 Love streams.    
   7.2   Avec son titre original bien plus mystérieux, qui semble accompagner sa véritable identité, le film des frères Safdie est un objet curieux, référencé et surtout ô combien plaisant. Il capte un quotidien, des regards, des gestes singuliers qui accentuent toute la marginalité de la petite famille modeste, littéralement habitée par ce père de famille complètement à la ramasse.
     Lenny and the kids ne révolutionnera pas le genre, se contentant de suivre un schéma crée par la nouvelle vague new-yorkaise, Cassavetes en priorité. Car il y a beaucoup de Faces dans ces dialogues bordéliques, ces blagues, ces gestes inattendus, le tout dans un lieu souvent clos. Parfois l'on sera aussi dehors où l'on visitera le nord, lorsque Lenny embarque ses gamins pour une virée instinctive, où quand il se balade sur les trottoirs de Brooklyn, où dans cette fin de film, magnifique moment suspendu, où l'on ne sait pas vraiment si l'on a affaire à un déménagement. Et ce film fonctionne de cette manière : il prend des directions que l'on ne soupçonne pas, il crée des situations qu'il est difficile d'interpréter. Il y a une part de rêve dans tout ça, celui d'un homme resté gamin, qui saisi chaque instant comme un nouveau jeu. C'est à tel point que très souvent je ne sais pas si ce qui se dit est vrai, ou fantasmé, ou juste une mise en scène pour les gosses. Je rentre dans le climat et j'y suis bien. De nombreuses scènes resteront entièrement mystérieuses – la salamandre dans les paquets de céréales par exemple, durant cette scène je suis aussi enfant qu'eux, j'y crois à fond – c'est ce qui me fascine ici. Il n'y a pas que des longues scènes comme celle-ci, il y a aussi des petits riens, comme ces céréales dans un vivarium improvisé, une marche sur les mains dans les rues new-yorkaise, une partie de squash un peu dingue. J'aime l'idée du type irresponsable, désorganisé mais tellement attachant aussi. La séquence où le papa donne des sédatifs à ses enfants pour qu'ils ne se réveillent pas lorsqu'il est au travail, c'est magnifique. D'une part on est dans l'incompréhension totale, puis finalement il y a une légitimité dans sa volonté de les préserver d'une solitude au réveil. C'est juste qu'il le fait très maladroitement, enfin un peu plus que ça même. Mais surtout c'est leur réveil qui est un vrai bonheur. Il n'y a pas de contre-coup, c'est un visage directement ensoleillé et un climat de joie qui règne à nouveau, j'en avais les larmes aux yeux. Pas tant parce qu'ils se réveillent (on s'en doutait bien de toute façon) plus parce qu'il les retrouve. Et c'est beau.
     Les Safdie y ont mis du cœur à l'ouvrage, parait-il que le film est autobiographique, dans les grosses lignes. Personnellement ça me parle incroyablement. Je n'ai pas eu cette enfance là, mais c'est un cinéma que j'adore. C'est comme si la séquence finale d'Une femme sous influence – où l'on voit Peter Falk courir après ses gosses dans l'escalier de la maison, les remonter, après qu'ils soient redescendus, jusqu'à répéter ce moment à n'en plus finir – se retrouvait tout entier dans Lenny and the kids. Il y a une énergie là-dedans je trouve cela fabuleux. Je ne m'attendais pas à voir le film se terminer dans ce téléphérique. Fin sublime, qui laisse planer de nombreux doutes, qui n'auront eu de cesse d'exister pendant toute la durée du film. Je ne parle pas des enfants, mais ils sont époustouflants, dans leurs mimiques, leurs gestes. Ils sont désordonnés, plein de rage, de rire. Et c'est dans tous ces impromptus que je vois du cinéma. Improvisé peut-être, mais surtout d'une liberté absolue.